6 Best Organic Baby Formula in Malaysia 2022
Breastmilk is always ideal way to feed your child, but for many parents, full time breastfeeding may not be an option. This is what formula milk is for, as a supplement to breastmilk if it is not available at the time. Choosing the right formula brand can be stressful as what goes into your baby can directly impact their health, especially if those formulas contain harmful ingredients.
Organic baby formula are produced without using pesticides, herbicides, antibiotics or growth hormones. Some experts consider these are healthier for your baby, but check the labels on your organic baby formula because some organic formulas utilize cane sugar as a sweetener. Here are some of the best organic formula for breastfed babies we can find in the market.
1. Bellamy's Organic Formula Step 1 (900g)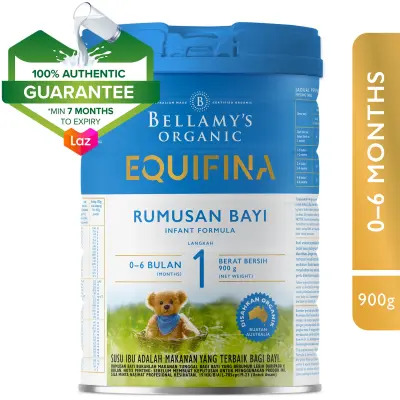 Bellamy's Organic Step 1 Infant Formula is suitable for most babies from birth through to 12 months. It's made from certified organic cows milk, blended with essential fatty acids, vitamins and minerals so you can be sure you are offering your baby the best nutrition in accordance with world-class Australian Food guidelines and standards.

Our Infant Formula is whey dominant which means that it is easy for babies to digest and perfectly balanced to provide your baby's nutritional needs.

Warnings: Contains milk and soybean products.
2. S-26 SMA Organic (0-12months) 900g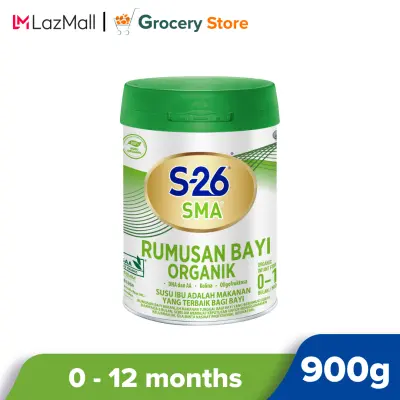 S26 SMA ORGANIC is certified organic growing-up milk that contains nutrients your toddler needs, to help you nourish his growth, development and learning abilities.
– For children 0-12 months
– Guaranteed organic with NASAA certification from NCO, an Australian certifying body.
– With IFOAM seal. IFOAM is the worldwide movement for organic agriculture.
– Made with dairy ingredients from 100% Organic Milk* sourced from organic-certified farms in Europe and New Zealand and manufactured to strict quality standards.
– Contains NUTRILEARN SYSTEM TM with important nutrients such as DHA, AA, Oligofructose, Calcium, Vitamin C, D and Iron.
3. Bubs Organic® Grass Fed Infant Formula Stage 1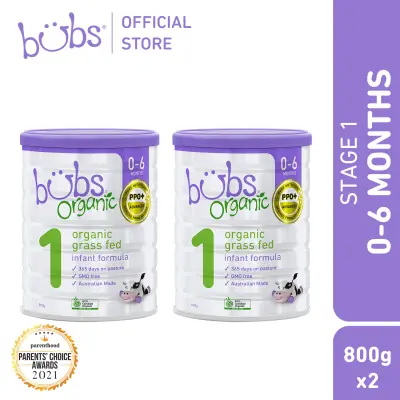 Bubs Organic Grass Fed Stage 1 Formula is exclusively formulated for tiny Australian tummies ages 0 to 6 months.
Bubs Organic Infant Formula is made with organic milk from grass fed cows, nutritionally balanced and free from GMO (Genetically Modified Organisms).
Our incredibly high standards ensure safety, quality, purity and nutrition, giving parents peace of mind and bubs a happy start to life.
4. HiPP BILAC Organic Infant Formula Step 1 (0-12 months)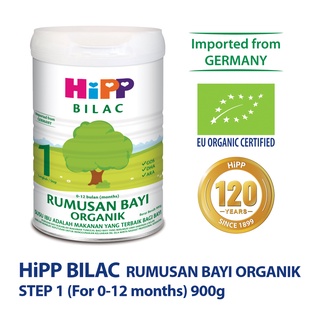 HiPP BILAC is an organic infant formula with premium certified organic ingredients. Produced according to strict organic regulations.
– Free from GMO, No use of chemically synthesized pesticides and insecticides, no artificial hormones/growth hormones,
– No artificial fertilizers, No prophylactic use of antibiotics.
– Contains 100% pure organic lactose.
– Contains organic Galacto-oligosaccharides (GOS) prebiotics which promote the growth of good bacteria in the gut and thus help produce stool consistency and frequency.
– Contains DHA & ARA as per expert recommendation for brain, nerve cells and visual development.
5. Babybio Organic Formula (0-12 months) 900g
All the ingredients from agricultural origin are 100 % organically grown. Free from pesticide and herbicide residue. It is formulated using milk from cows that graze freely and that are fed on an organic diet without using antibiotics or growth hormones.
Contains essential fatty acids from cold pressed vegetable oils.
Nutritional composition of Babynat Infant Formula in compliance with the latest paediatric recommendations for infants from birth.
6. Biostime Premium Organic Infant Formula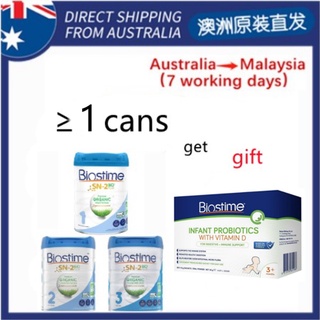 Biostime SN-2 BIO PLUS Premium Organic Infant Formula provides comprehensive nutrition to support the needs of formula fed infants from birth to 6 months. Made from certified organic ingredients, this formulation has been scientifically developed to provide complete nutrition for growing babies, with a naturally smooth and milky taste.
For over a decade, our advanced research centres have been studying the science behind nature. True to this, we source our premium organic milk and cream from Normandy, France which has some of the finest nutrient rich pastures in the world. Plus, our Biostime SN-2 BIO PLUS Premium Organic Infant Formula is certified organic in both France and Australia, palm oil free and formulated to Australia's high standards.
FAQ
1. How do I stop my baby from vomiting after feeding?
– Avoid overfeeding. If the baby's stomach is too full, some of the contents might be pushed back out. To reduce overfeeding, feed your baby smaller amounts more frequently.
– Burp your baby frequently. Extra gas in the stomach causes gas bubbles to escape, which has a tendency to bring the rest of the stomach's contents up as well. Burp after and during meals.
– Limit active play after meals
– Hold your baby upright. Pressing on a baby's belly right after feeding may push their stomach contents out.
– Consider the formula. Frequent vomiting may serve as one of several signs that it's time to consider alternative formulas with your pediatrician.
– Give oatmeal. Only recommended for babies after 6 months old. Babies with reflux may need thicker food to order to swallow safely or reduce reflux.
2. What to do after baby throws up?
– Rest their stomach. Keep your baby from eating or drinking for 30 to 60 minutes after vomiting so that their stomach has time to recover.
– Give them fluids. after 30 minutes, start by giving your baby small amounts (0.5 oz or less) of fluid every 5 to 10 minutes. If your baby vomits the fluid out, wait another 30 minutes. Then start again with small amounts of fluid every 5 to 10 minutes. Use water, breast milk or a clear, noncarbonated liquid.
– Medicines. If your child has a fever, ask your pediatrician for the appropriate medication.
Related Articles